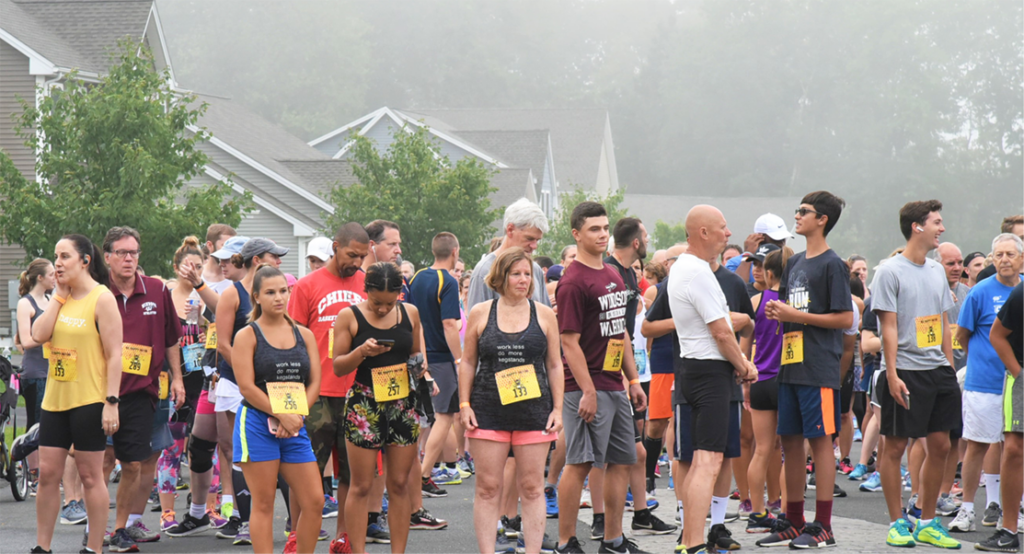 We are deeply grateful to all of our corporate sponsors and to all who support our mission to bring HOPE and a cure.
By partnering with LLF, your company will benefit through:
Engaging customers, driving sales, and increasing brand loyalty
Increasing employee morale, engagement , and retention
Generating recognition for the good you do in the community
Attracting new business partners and relationships
Positively impacting the mission of LLF
2023 Sponsorship Opportunities
TITLE SPONSOR
$7,500
Title sponsor the entire Be Happy Run and get maximum exposure throughout the year! Your title sponsorship package will entitle you to all of the previous package benefits as well as  complete logo inclusion on the Be Happy Run Event! - This includes Finish/Start line signage, event promotional signage and posters, and repeating logo placement on the awards backdrop. Your title package also includes a reserved booth space at the post race party and 8 free race t-shirts and race registrations to create your own corporate team!
SUPPORT
SILVER SPONSOR
$1,000
Enjoy all the benefits of the Bronze package in addition to recognition on our organization website, social media and email recognition leading up to and after the event, as well as 2 free race t-shirts and event registrations.
SUPPORT
GOLD SPONSOR
$2,500
Enjoys all the benefits of the Bronze and Silver packages in addition to inclusion in the race marketing and social media campaigns, and recognition on race weekend. This package also includes your logo featured on our full color event step-and-repeat (popular location for participants to take photos for social media posts) and 4 free race t-shirts and event registrations.
SUPPORT
BRONZE SPONSOR
$500
Enjoy 1 year of sponsorship recognition on our event page, your logo will appear on our race day posters and mile markers, in addition the opportunity to include advertising brochures and or products samples in our participant swag bags.
SUPPORT
POST-RACE CELEBRATION
$2500
(1 available) There's no energy like that we feel at the FINISH LINE!!!! Provide post race food, hydration, and music with exclusive branding in the celebration tent and at the finish line.
SUPPORT
AWARDS
$1500
(1 available) Prize money, cost of awards & customization. Prize money envelopes to be printed with your company logo and represented in prize presentation photos.
(We award top finishers a custom one-of-a-kind gift for them to remember their accomplishment. Be remembered as they take home their custom award and display your company's logo with pride.)
SUPPORT
RACE CREW
$500
(1 available) Volunteer Team support - cost provides volunteer t-shirts with your company's branding, safety equipment & training, volunteer food.
SUPPORT
WATER STATION
$250
Cost provides the hydration supplies! Choose to have your crew volunteer at our most trafficked locations on the run course routes, or have our Be Happy Race volunteers represent your company! Also included are custom signage and table displays at and around the area.
Support